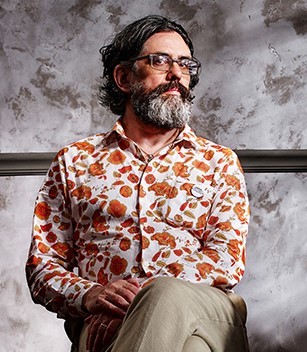 Dave Broom was born in Glasgow and has spent his whole working life in the world of drink, from a whisky bottling line, to a wine merchant, a craft brewer's pub, drinks trade writing, and Australian wineries, before finally, in 1995, becoming a writer specialising in spirits.
Since then, he has written regularly about all spirit categories. Of his twelve books, two: 'Drink: Never Mind the Peanuts' and 'Rum' won the Glenfiddich award. His Whisky: The Manual was awarded Best Spirits Book at the Spirited Awards in 2015 and the 'World Atlas of Whisky' has been called "a landmark publication". His most recent book, "The Way of Whisky: A Journey into Japanese Whisky' appeared in 2017.
He is chief engineer for the go-to online site scotchwhisky.com, and writes for a large number of international titles. Around half of his time is spent teaching and talking. He also designs in-house training courses for distillers and was one of the team which developed (and continue to maintain) the Single Malt Flavour Map. In 2013 he was awarded the Communicator of the Year at the ISWC awards and in 2015 was voted Best Spirits Writer at the Spirited Awards. He is a Master of the Quaich and a Kentucky Colonel.
He lives in Hove, England with his wife and daughter, a menagerie of animals and works in an office filled with stones, bones, and vinyl.
New !

Dave Broom: A Sense of Place

In this beautifully crafted narrative, award-winning writer Dave Broom examines Scotch whisky from the point of view of its terroir - the land, weather, history, craft and culture that feed and enhance the whisky itself.…

€ 39,95

Dave Broom : The World Atlas of Whisky

Award-winning author and whisky expert Dave Broom explores over 200 distilleries and examines over 400 expressions. Detailed descriptions of the Scottish distilleries can be found here, while Ireland, Japan, the USA, Canada and…

€ 39,95

Dave Broom : The Way of Whisky

A Journey Around Japanese Whisky

Since 2002 (the year it appeared on export markets) Japanese whisky has been consistently winning major international spirits awards. As export production increases and export markets - the USA…

€ 39,95

Dave Broom; Whisky: The Manual

This highly accessible and enjoyable guide is full of practical and fascinating information about how to enjoy whisky. All whisky styles are covered, including (just whisper it) blends. Along the way a good few myths are exploded,…

€ 19,95