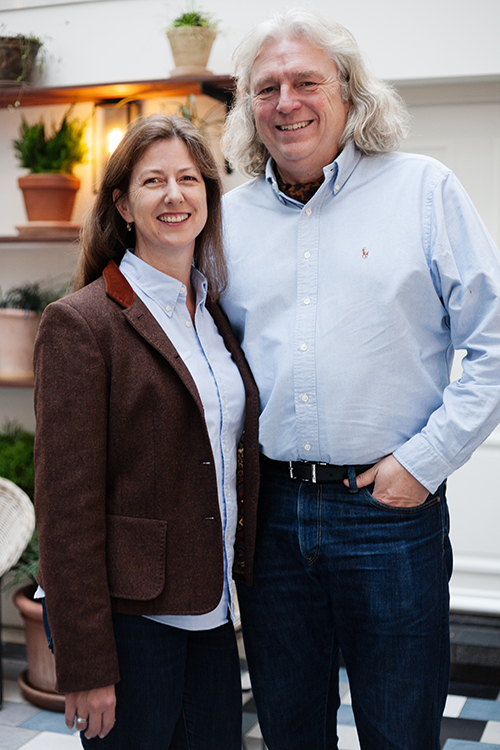 Hans Offringa is a bilingual author and media expert and has been writing about whisky for over 30 years. He published 25 books about his favourite topic to date, but also wrote non-fiction books about rum, champagne, golf and a few historical books. Meanwhile he found time to write three novels as well.
He is European Contributing Editor of Whisky Magazine, the leading magazine on whisky internationally. During his career Hans has received various awards and titles, among which Keeper of the Quaich, Lifetime International Ambassador of the Spirit of Speyside Whisky Festival, Honorary Scotsman, Ambassador-at-large of the Scotch Malt Whisky Society (SMWS) and Patron of the Whisky Festival North Netherlands (WFNN).
For his book Bourbon & Blues he received the title of Kentucky Colonel, the highest award to be bestowed upon a citizen in the state of Kentucky. Since 2006 Hans has been closely cooperating with his wife Becky since 2006. Since then they are known internationally as The Whisky Couple, a registered tradename of their media production company Conceptual Continuity.
Becky holds a Bachelor Degree of Marine Biology from the College of Charleston, SC and has a passion for whisky, painting and photography. She also has a remarkable natural talent for nosing and tasting. Becky takes care of research, layout, photography and editing of most of Hans' publications. Their articles, books and photographs have been published worldwide for many years.
The Whisky Couple also develops marketing concepts and material for the international whisky industry. Companies the likes of Diageo, Pernod-Ricard, Edrington, Beam Suntory and Scotch Whisky International have commissioned work to them on more than one occasion. Hans & Becky are judges at the World Whisky Awards and conduct whisky master classes in Europe and the USA, where they partly live throughout the year.
Valentino Zagatti, The unseen Collection

Hans & Becky Offringa, internationally known as The Whisky Couple, have published a series of books about The Unseen Valentino Zagatti Collection, commissioned by Scotch Whisky International.

The publication consists of five…

€ 695,00

-20%

Hans Offringa: A Taste of Whisky

Dutch whisky expert and author Hans Offringa selected 10 Scottish single malts and approached four famous chefs in the Netherlands, Belgium, France and Scotland with the following question: Would you be so kind to prepare a 10…

€ 24,95 € 19,95

Hans Offringa : A Field Guide to Whisky

A Field Guide to Whisky is a one-stop guide for all the information a whisky enthusiast needs. With the whisky market booming all over the world, now is a perfect time for a comprehensive guide to this popular brown spirit. What…

€ 23,95

Hans Offringa : The Road to Craigellachie

A discovery tour through the world of whisky and Scotland, with an occasional detour. The journey starts in the attic of a stately home, back in 1974, and ends more than 30 years later in the Craigellachie Hotel of Speyside with…