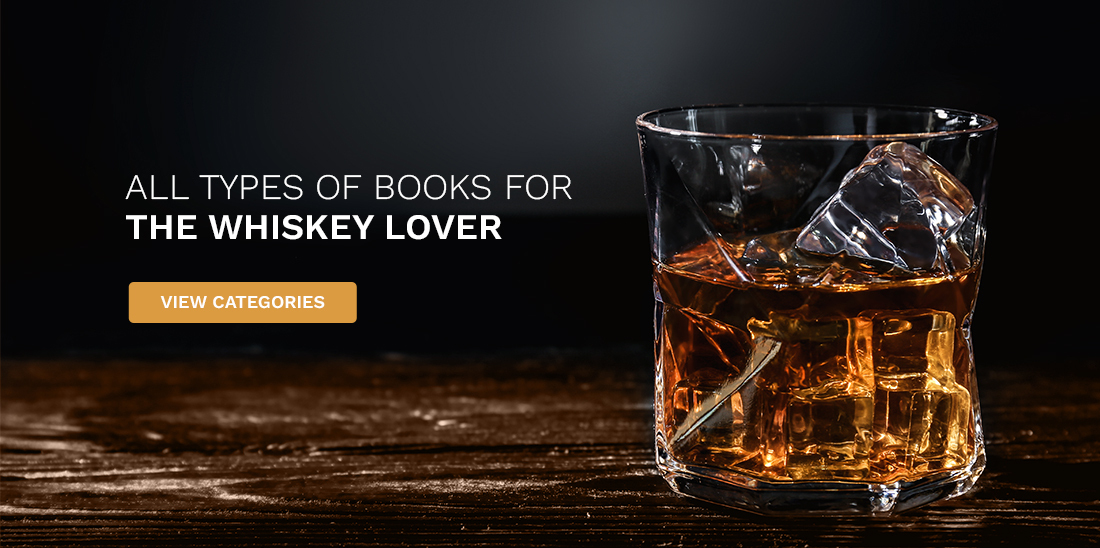 Welcome to Whiskybooks.nl 
Enjoy browsing the largest online collection of books on whisky and other spirits worldwide. Looking for a book that's not in our catalogue? Please send us an email and most of the time we will be able to track it down for you. 
New !

Malt Whisky Yearbook 2023: Ingvar Ronde

Shipment starts Wednessday October 12

Whisky enthusiasts all over the world look forward to the Malt Whisky Yearbook every autumn. The latest edition – revised and fully updated with new exciting articles including:

- Lowlands…

€ 18,95

Caroni 100% Trinidad Rum: Steffen Mayer

IN Stock - Limited available !!

It is a very extensive work in two volumes in a slipcase. The book will weigh around 9 kg, be over 1100 pages long, it is limited to 2000 books and is published in English, German, French and…

€ 299,00

New !

Dave Broom: A Sense of Place

In this beautifully crafted narrative, award-winning writer Dave Broom examines Scotch whisky from the point of view of its terroir - the land, weather, history, craft and culture that feed and enhance the whisky itself.…

€ 39,95

New !

Dominic Roskrow and Gavin D. Smith: Malt Whisky Companion

An updated edition of the classic, definitive guide to malt whiskies, originally written by the late Michael Jackson and fully updated by whisky experts Dominic Roskrow and Gavin D. Smith. This will teach you everything you need…

€ 24,95

New !

New !

Ian Buxton: 101 whiskies to try before you die

101 Whiskies to Try Before You Die is a whisky guide with a difference. It is not an awards list. It is not a list of the 101 `best` whiskies in the world in the opinion of a self-appointed whisky guru. It is simply a guide to the…

€ 19,95

New !

Ian Buxton: 101 Craft & World Whiskies Try Before You Die

From Austria to Argentina and Norway to New Zealand, the world of whisky is expanding as we have never seen before. Distilleries as far away as Taiwan and as close to home as England are reinventing what whisky means - and an…

€ 19,95

New !

Valentino Zagatti, The unseen Collection

Hans & Becky Offringa, internationally known as The Whisky Couple, have published a series of books about The Unseen Valentino Zagatti Collection, commissioned by Scotch Whisky International.

The publication consists of five…

€ 695,00

New !

Jim Murray : Jim Murray's Whisky Bible 2022

This is the most comprehensive and thoroughly researched guide to the world's whiskies ever produced. Honest, forthright and proudly independent, Jim Murray has, for this 19th edition, tasted and rated over 4,300 whiskies,…

€ 16,95

New !

Ian Buxton : Glenfarclas 185 (Distillery exclusive)

A must have for every Glenfarclas lover !

This book is to cellebrate 185 years of Glenfarclas / Distillery Visitors centre exclusive

It is rare for any business concern established in the reign of William IV to remain in family…

€ 34,95 € 29,95

New !

The Story of Jim McEwan - A Journeyman's Journey

Jim McEwan is (for whisky professionals, connoisseurs and lovers) an icon like Steve Jobs, Paul McCartney and Pelé. Growing up in the small village of Bowmore on the "whisky island" of Islay, he started his career in 1963 at the…

€ 59,95

New !

New !

Carlo Devito: Big Whiskey: The Revised Second Edition

An updated edition of Big Whiskey, the definitive guide to the American Whiskey Trail. This updated edition of the definitive guide to the American Whiskey Trail is comprehensive collection of the whiskey, bourbon, and rye made by…

€ 29,95

New !

Nico Martini: Texas Whiskey

Texas Whiskey: here is the first and only book to tell the story of Texas whiskey.

Texas history runs deep, and the history of whiskey in the state is no exception. But the Texas whiskey scene, which emphasizes local corn and…

€ 34,95

New !

New !

New !

Campbeltown Whisky: An Encyclopeadia: Angus Martin

Poet and historian Angus Martin was born in Campbeltown in 1952 and has lived there all his life. In this, his
thirty-seventh book, he has employed his intimate knowledge of the history and families of his native community
to…

€ 24,95

Sold Out

Emmanuel Dron: Collecting Scotch Whisky

884 pages, size 35 x 28 cm. - almost 7 Kg.

Shipment outside Europe? please contact us forst before ordering! info@whiskyboeken.nl

About 2500 bottles are illustrated and described in detail. Including bottles that almost no one…

€ 395,00

New !

Matt Falcus: Scottish Whisky Distilleries

Whisky is a major industry in Scotland which ties in both with the country s history and present-day attraction. Thanks to its modern-day surge in interest, there are now more whisky drinkers and enthusiasts than ever.

This book…

€ 16,95

New !

Ralfy Mitchell: Stories from a whisky bar

Eleven entertaining, and individual fictional short stories based on factual conversations with people over the years in whisky bars in Scotland, and including some of the authors own adventures. A Chapter per Dram is a good…

€ 19,95

Ralfy Mitchell: Search for a Whisky Bothie

A humorous autobiography by a whisky reviewer with a youtube channel called 'ralfydotcom' travelling from early childhood memories to an adults apprenticship with scotch and Scotland. People and places are explored and whisky is…

€ 19,95

The Glenfarclas Single Malt Whisky Collector's Guide

A guide to collecting the whisky of Glenfarclas by Ralf Bernhardy and Hans Georg Würsching - it's good enough to be recommended on Glenfarclas's own website. Foreword by John L. S. Grant

Hardcover: 694 pages

1st Edition 2004

€ 54,95

New !

Alex Preston: Pursuit, The Balvenie Stories Collection

What is it to pursue a goal, to strive for an ideal, to follow a dream?

These are the questions explored by The Balvenie in this unique collection compiled by award-winning novelist Alex Preston.

The stories - from some of the…

€ 14,95

New !

Neil Wilson; Whisky in your Pocket - 10de edition

Whisky in Your Pocket e book: 10th edition based on the original 'Malt Whisky Almanac' by Neil Wilson

Now in its 10th edition, 'Whisky in Your Pocket', has been thoroughly revised. A compact book that is a pithy introduction to…

€ 13,95

New !

New !

New !

Orange Hippo; The Little Book of Whisky

The perfect gift for anyone desiring a richer whisky experience. Some drinking buddies only ever talk about themselves. Well, not this guy. The Little Book of Whisky is here to listen, entertain and help you imbibe as many…

€ 9,95

New !

Ingvar Ronde : Malt Whisky Yearbook 2022

This year covering 727 distilleries around the world!

- The Distillery Section completely revised with all the latest news

- New exciting articles by distinguished writers -Charles MacLean, Gavin D Smith, Ian Wisniewski, Neil…

€ 16,95

New !

New !

Jim Murray : The Art of Whisky

rom the World's leading whisky authority Jim Murray.

Connoisseurs of whisky regard the process of distilling and its eventual product as an art. This book offers a glimpse into another art form celebrating whisky - posters and…

€ 24,95

New !

David McNicoll: The Language of Whisky

Whisky, or "whiskey" if you prefer, is a multinational, billion-dollar industry spanning the globe; it is made from New York to Tasmania. Although whisky is an umbrella term that includes Bourbon and Irish, it is most…

€ 18,95

Neil Wilson : The Arran Malt: An Island Whisky Renaissance

Despite being only 21 years old, Lochranza Distillery on the Isle of Arran is the latest in a long line of distilleries that once existed there. The island's illicit whisky that was made in the 18th century was considered so good…

€ 24,95

New !

Ardbeg Heavenly Peated

Now also available at Whiskyboeken.nl !

Ardbeg: Heavenly Peated is the revised edition of our earlier book titled Ardbeg: A Peaty Provenance. The earlier book commemorated the 10th anniversary of Glenmorangie's ownership and…

€ 47,95

New !

New !

Sheila McConachie/Graham Harvey: Whisky Kitchen

From their restaurant in Speyside, Scotland, Sheila McConachie and Graham Harvey have spent some considerable time learning and understanding the characteristics within differing Scotch whiskies. From traditional Scottish and…

€ 24,95

-20%

Ian Macilwain: Bottled History

Ian Mcilwain's Bottled History is a heavy coffee-table tome stuffed with some glorious photos of old distillery equipment and warehouses full of casks.

This fine art limited edition book is the culmination of five years work by…

€ 24,95 € 19,95

Peter Mulryan; The Whiskeys of Ireland

Second edition

This beautifully produced book, with full-colour photographs throughout, will tell you everything you ever wanted to know about Irish whiskey.

The History of Irish Whiskey There is a strong connection between the…

€ 19,95

Dave Broom : The Way of Whisky

A Journey Around Japanese Whisky

Since 2002 (the year it appeared on export markets) Japanese whisky has been consistently winning major international spirits awards. As export production increases and export markets - the USA…

€ 39,95

new

new

Dominic Roskrow; The World's Best Whiskies; 2nd edition

750 Unmissable Drams from Tain to Tokyo

Aimed at beginners as well as connoisseurs, this revised and expanded edition of The World's Best Whiskies encompasses everything you need to know to increase your appreciation of this…

€ 22,95

New !

Dominic Roskow : Whisky Japan

The Essential Guide to the World's Most Exotic Whisky

Japanese whisky is finally getting the international recognition it deserves. Originally created to emulate the malts of Scotland, Japanese whiskies now hold a distinct and…

€ 29,95

Holger Dreyer: The Legend of Port Ellen

A must-have book for any fan of cult closed distillery Port Ellen. This book from German historian (and Port Ellen collector) Holger Dreyer contains a complete history of the distillery, including the reasons for its closure, and…

€ 29,95

David Wishart: Whisky Classified

Rigorously researched with the cooperation of the whisky industry, this classification of single malt whiskies by flavor has been totally revised and updated to include all the newest single malts from the UK and Ireland. The…

€ 19,95

-28%

Martine Nouet : à table : Whisky from glass to plate

This attractive new cookbook takes an original slant on whisky as an accompaniment to good food. Martine Nouet is an authority on both whisky and French cuisine, and her book presents 60 recipes honed from her many years of…

€ 24,95 € 17,95

Brian Townsend : Scotch Missed

The Original Guide to the Lost Distilleries of Scotland

A welcome revised fourth edition detailing the remnants and ruins of almost every Victorian working distillery in Scotland. In this edition the author has fully updated the…

€ 24,95

Dave Broom; Whisky: The Manual

This highly accessible and enjoyable guide is full of practical and fascinating information about how to enjoy whisky. All whisky styles are covered, including (just whisper it) blends. Along the way a good few myths are exploded,…

€ 19,95

Clay Risen: the new single malt whiskey

More Than 325 Bottles, From 197 Distilleries, in More Than 25 Countries
The most definitive guide to the new revolution in single malt whiskey across the globe, complete with cocktail recipes, bottle reviews, tasting notes,…

€ 24,95

-17%

Jim Murray; Jim Murray's Whisky Bible 2019

Jim Murray's Whisky Bible is the world's leading whisky guide. Each edition contains over 4,600 detailed, professionally analysed and easy to understand tasting notes on the world's leading and lesser known whiskies.

The…

€ 17,95 € 14,95

New !